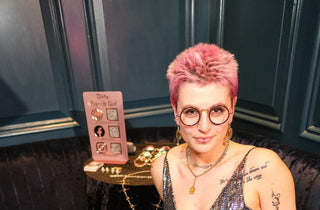 DFG IN A FEW WORDS
Dirty French Girl is a bespoke designer jewellery brand born from Chloe Mellen's funny little brain! Easily eye catching, sometimes sensual, and always cheeky, DFG aims to be the not only stylish but also engaged! Jewellery is genderless and DFG is a place for all to feel welcome.
Inspiration
Dirty French Girl's inspiration often comes from the world she submerges herself in, seen through the lens of her personal experiences. This often includes hobbies such as martial arts, being a part of the fetish community, and causes close to her heart such as feminism and body positive inclusivity… all imbued with that cheeky DFG twist to create iconic, idiosyncratic pieces for your pleasure.
Making Of
Each original item is handmade by the original Dirty French Girl herself: Chloe Mellen. The very first sample is a combination of hand carving wax, and hand drawn technical sketches that show the design from every angle. To get more detail and precision, the hand carving and sketches are then combined to create the perfect 3D CAD design. Once the CAD is perfect, DFG prints the design and has it cast into the very first silver prototype. Dirty French Girl will then hand polish and finish the piece, have a mould made, to use whenever she gets an order. Each order is always hand polished and finished in the DFG workshop, before being sent off to you.
Our Customers
By inventing unique signature style, Dirty French Girl playfully blurs the lines between taboo and social acceptance to reimagine the way jewellery is designed. Dirty French Girl creates pieces for the customer who dares to be shameless and bold, and have a good sense of humour! Working to fill niche markets, DFG creates jewellery with a function, a message , whilst still being bold and beautiful.
Craftmanship
Dirty French Girl is a brand that values craftsmanship. Each and every item is designed and made by DFG herself. When working with other artisans, Dirty French Girl hand picks local craftsmen and women she knows and trusts: doing her bit for her home economy and keeping her carbon footprint low. The metal used in each and every design is SAAMP approved, a company which takes it's social and environmental responsibilities very seriously.